All of our students love us and they are thrilled that we maintain the HIGHEST STATE BOARD EF EXAMINATION SCORE every time we graduate a program.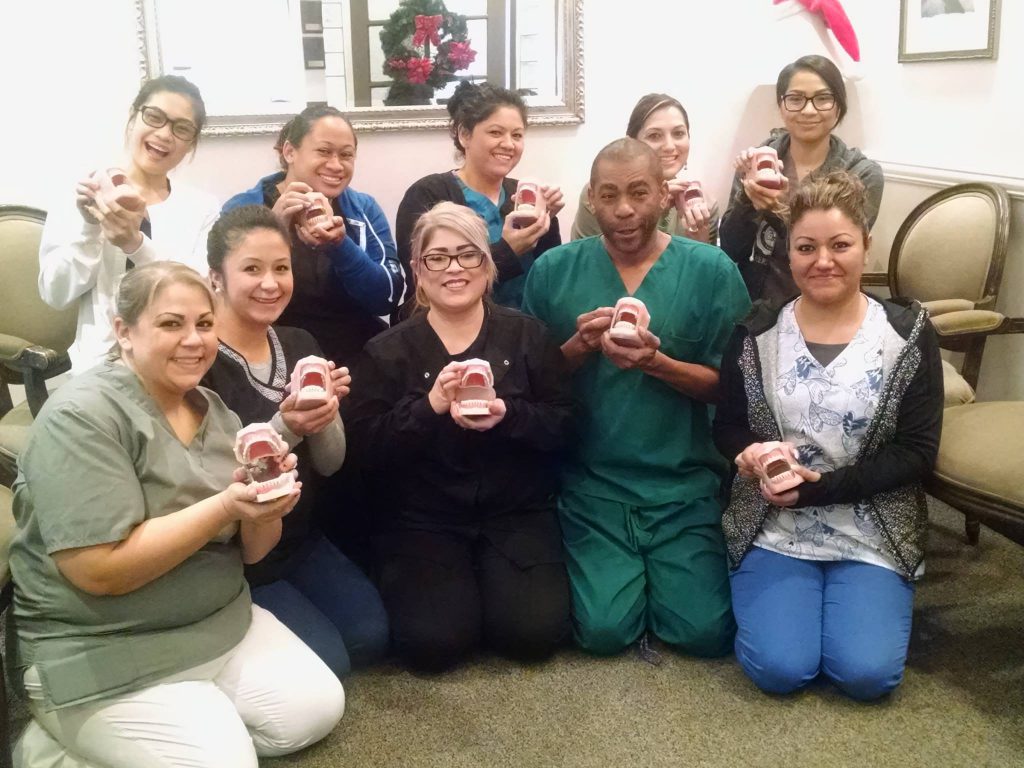 The Expanded Functions Dental Assistant Association is a professional organization that:
Provides Courses for:

Unlicensed dental assistants to increase their scope of practice and become licensed as an RDA and then the most sought after RDAEF2.

Unlicensed orthodontic assistants to increase their scope of practice and become licensed as an Orthodontic Permit Assistant.

EDFAA's Mission

Promote the advancement of the dental assisting profession through education and legislative representation.
Provide current information on changes occurring within the dental delivery system

Improves the quality of dental care to California citizens.
Let us help you reach your educational goals and licensure!
EFDAA is one of the first providers of the RDAEF2 program in Southern California.  We started our first program on January 16, 2010.  Since the inception we have graduated over 200 RDAEF2s.  We are credited with:
Possessing the highest pass rate on California Dental Board RDAEF examination in Southern California.

Maintaining an average of 85% pass rate in both the restorative and prosthodontic component of the RDAEF examination.

Our teaching staff, are not only practicing RDAEF2s, but their expertise is superior to dental school faculty who teach in the other RDAEF dental school programs in Southern and Northern California, as our graduates pass the State Board at a much higher pass rate.
PRESIDENT OF EFDAA: BARBARA BLADE
The founder and President of EFDAA is Barbara Blade, RDAEF, BA. She is a leading authority in dental education in California and brings the following accomplishments to this organization:
Dental assistant educator and psychology professor for over thirty years.

Author of RDA Written Review Manual and numerous continuing education courses.

Developed, coordinated, implemented and taught in the UCLA School of Dentistry, Department of Continuing Education RDAEF/RDHEF Program

Served as COMDA and Dental Board Consultant for the following programs: Dental assisting program accreditation and site evaluation; X-ray Certification approval process; RDA Practical Examination design and development; RDAEF/RDHEF accreditation/approval process; RDAEF/RDHEF clinical examination design and implementation.

Represented the California Dental Assistant Association, California Association of Dental Assisting Teachers and the Expanded Functions Dental Assistant Association in implementing RDAEF2 legislation.
Lori Thomas, RDAEF2
Lori has been in the field of dental assisting since 1975; became an RDA in 1977 and was in 1987 accepted into the first RDAEF program at UCLA.  Upon graduation, she passed the state RDAEF board examination and she is proud that her license number is 32.  She is a pioneer RDAEF2.  During this period of her life, she had the opportunity to teach not only EFDAA's current RDAEF2 program but other classes such as x-ray certification, RDA practical exam preparation courses and sealant certification classes.  She brings to the classroom her extensive clinical skills performing RDA and RDAEF2 duties.   Educating fellow dental assistants has been very rewarding to her especially when she sees her student's progress and their excitement with what they are able to achieve.
Marina Uriostegui, RDAEF2
Marina is a dedicated career professional and has been in the dental field for over twenty years. She provides caring, high quality dental care to her patients and loves working side by side with her dentist. She holds the highest level of licensure that a dental assistant can possess, as she is an RDAEF2 as well as OA Permitted assistant. She brings a wealth of knowledge and skills to the classes that she teaches. Her desire to share this knowledge is reflected in her excellent, patient teaching style. Since she is fluent in Spanish, she is able to assist those students who have English as their second language.
Tiffany Ball, RDA
Tiffany has made dental assisting her life's work as she has been in the profession for 15 years.  Her career advancement choice was to become a dental assisting educator.  She has been with EFDAA for many years teaching classes that are required for licensure as an RDA.  She strives to always provide the highest quality of education as her mission is to ensure patient safety.
Roseanne Hui, RDAEF2, OA
Roseanne has been practicing as a dental assistant for over 5 years and graduated from EFDAA' RDAEF2 and OA program. Her goal is to advance dentistry by encouraging dental assistants to find confidence within themselves to progress in their careers. Her phlebotomy license allows her to draw and isolate fibrin proteins from patient blood samples during implant surgeries to improve healing. She is excited to share her experiences and learn from her students. In her spare time, she enjoys being a teacher's assistant at Pasadena City College for the Biological Technology Program and a volunteer with the USC mobile dental clinics.
Kim Brown, RDAEF2
Kim has been in the Dental Assisiting profession for 30 years, she became an RDA in the early ninties and in 1997 she graduated from the RDAEF program at UCLA. Kim joined EFDAA as an Infection Control instructor in 2010 after completeing and passing the boards for the first RDAEF2 course at UCLA. In 2012 she passed the State Board Exam for Orthodontic Assistant and began teaching the OA program for EFDAA. Kim is a firm believer in empowering other Dental Assistants to educate themselves and make the most of their dental careers. She is an active member of several associations within the dental community and takes pleasure in volunteering her time through these organizations.
Gina has been practicing in the dental field in Southern California for over 30 years. During these past years she attained her RDA and Orthodontic Permit license.  She is dedicated to her career in the specialty of Orthodontics. The most rewarding aspect of Gina's career has been building confidence, trust, and friendship with each patient while helping them create their perfect smile. She realized that teaching would allow her to share her experience and love for Orthodontics so she shall be teaching the OA Permit Program for EFDAA.  She plans to help future assistants in their quest to achieve their career goals.  Gina is continually learning new techniques and technologies, which she will share with her students.
Nikki has been practicing dental assisting for over 25 years in Northern California.  During these past years she has became licensed as an RDA and OA Permitted Assistant.  She takes great pride in her profession and loves working with her patients.  These many years of experience has allowed her to gain extensive clinical experience not only in general dentistry, but also in orthodontics.  Nikki will be teaching the OA Permit Program in the Sacramento area for EFDAA.  Her mission is to vibrantly inspire and motivate others to become confident through expanding their knowledge and clinical skills.
Are You Ready To Take The First Step?
EFDAA has the best and most current avenue for working dental assistants, RDAs, RDAEFs and OA Permitted assistants to meet state requirements; as well as keeping abreast of current changes in dental delivery; while providing this education in the comfort of your home.
The lectures are provided through online education or through completing a homestudy program.  These types of delivery allow you to review the information anytime; in the privacy of your own home; as many times as you need and whenever you want.  Another important advantage of this system is that it reduces the classroom hours; which shortens the program.  Both the theory and classroom instruction is provided during the same time period.